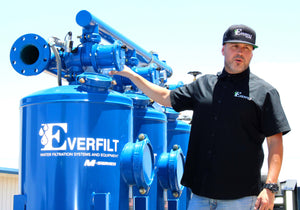 What Is The M-Series Multi-Media Filter?
The Everfilt® M-Series Multi-Media Filter product line is the result of 40+ years of manufacturing and engineering filtration systems, and equipment for Agricultural and Industrial based applications. Standardized pre-packaged filtration systems paired with Everfilt's exclusive media packages, create turn-key solutions for projects requiring lower-level filtration.
System packages capable of 5,10,15,20,30 or 40 micron filtration, and flow rates from 10 - 5000 GPM. The M-Series is designed and manufactured in the U.S.A., for optimum water filtration quality, for the removal of organic and inorganic suspended solids down to 5 microns. A highly versatile system and can be used as a stand-alone unit, in conjunction with, or as pre-treatment systems for various filtration applications. 
The M-Series is constructed from carbon steel and utilizes a vertical sideshell height of 24" to 72", with accompanied reverse stacked medias for progressive filtration through the filtration system. All Everfilt® Industrial Media Filters utilize an automatic backwash system for ease of use, user-friendly operation and consistent water quality. 
The M-Series product line is designed to cover a wide range of water filtration applications and can be equipped with additional features, creating a unique system that will excel in industries across the board. From higher than usual pressure ratings, up to 200 PSI. PLC integration for easy connectivity and monitoring of the system are just a few of the key features available.
To discuss more information regarding the M-Series, talk with an Everfilt® Applications Engineer:
1.800.360.8380
everfilt@everfilt.com
---